TOKY designs FEAST's site: the Devil is in the details
As part of FEAST magazine's cross-media branding, TOKY designed the look and feel of the website — including the various templates for all pages.
When we design for the web, we try to work as closely as possible with developers throughout the development cycle in an effort to maintain the integrity of the original design. We are a "pixel-perfect" shop, and we live for typographic perfection from design through development.
Often, when we are asked to hand over our Photoshop files, we don't get an opportunity to interact with the developers as a site is being built or review the site before it goes live. That was the situation with FEAST, and rarely produces a truly great site. Developers are hard-pressed to stitch so many pieces of a site together before launch that they often overlook the "details" that they deem inconsequential.
The FEAST site almost gets it right, except for a few of those overlooked details here and there. These details are, of course, what distinguish great from good. Here are a few examples of some discrepancies we noticed. TOKY's comps are on the left or on top; the live site on the right or bottom.
1. The developers decided to implement an HTML font for the navigation instead of the more branded, bolder typeface we had selected.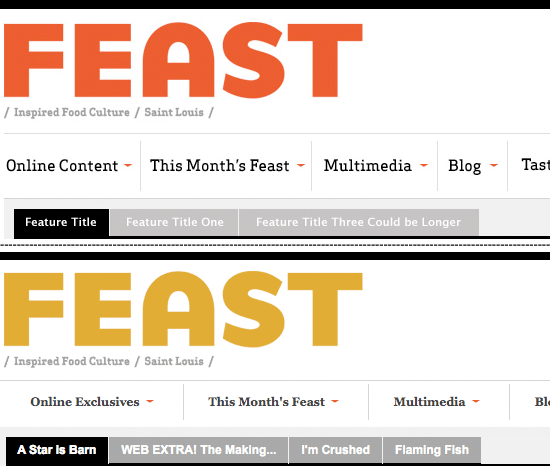 2. Additionally, the navigation drop menus use a different font and the line-spacing is much tighter in the final version, and the dividing rules are black and not reversed, giving the menus a cramped feeling.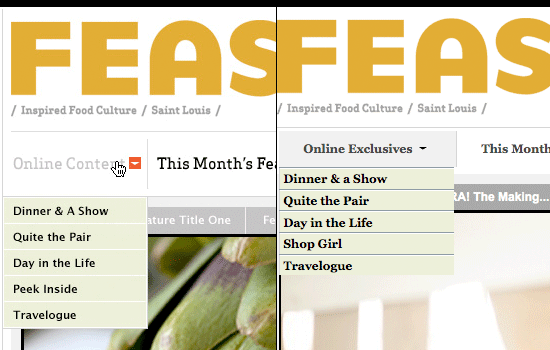 3. We designed the "Most Commented" and "Most Read" tabs to work with the color palette of the site; these were changed in development as well as the left alignment of the copy, creating a jagged scanning and reading experience for the visitor. Additionally, the "Read More/Get The Recipe" button is misaligned, and the letterspacing in the design was overlooked.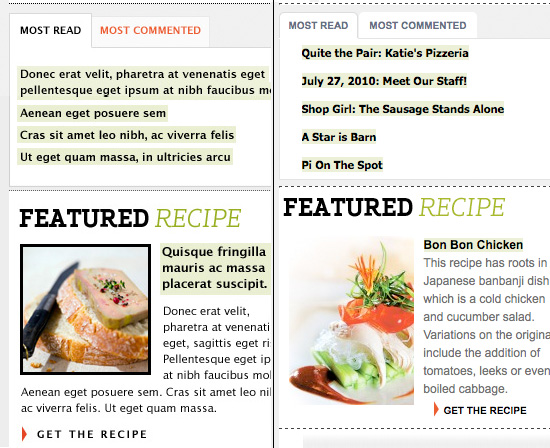 For the most part, the site functions as it should. We hope that as the site evolves the development team will go back and revisit the original comps in an effort to polish up the elements that have been overlooked. Until then, it's more famine than FEAST. See for yourself: www.feaststl.com