FEAST Magazine: TOKY, Lee do the White Barn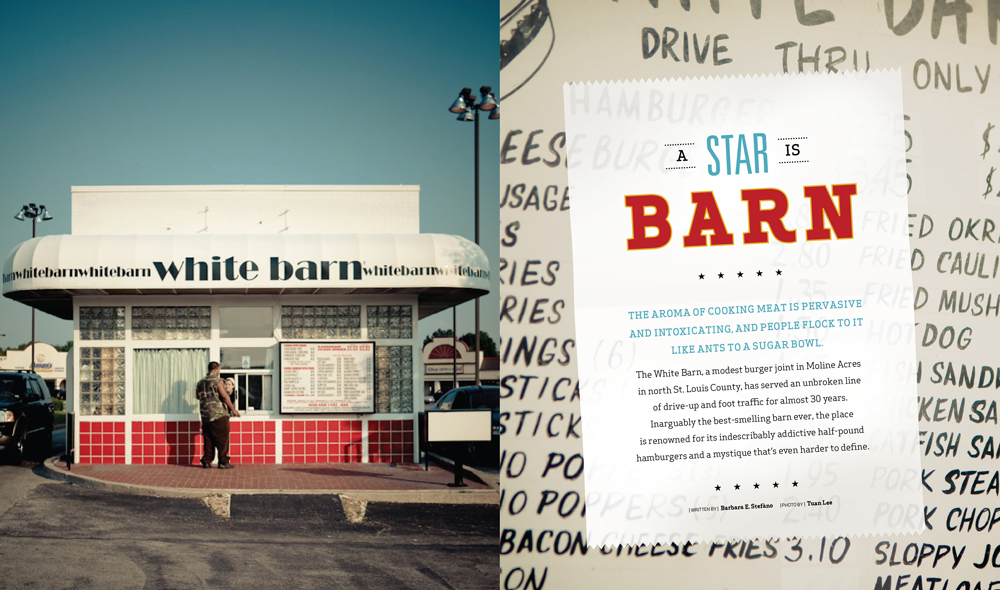 This week we're celebrating the launch of FEAST Magazine, the new publication from the suddenly very profitable Lee Enterprises. For the last three-and-a-half months, the TOKY team has been eating and drinking FEAST layouts, all in secret as the mag prepared its launch.
Above are a couple of spreads from the 8-page White Barn feature story we designed around Tuan Lee's wonderful photo essay (we also did the logo, grid system, all look and feel, many of the section story designs and the website design and CSS…but more on that later…). The White Barn is a cult destination for foodies and junk food aficionados in St. Louis. It's the heart and soul of a 75-year-old fireball named Rich Robson, who says "I love the people, and I love to work — and I like to flirt with the ladies."
Our spreads have been pretty much unchanged from our final turn-over files to printed pieces. The only real changes we noted are that all the captions have mysteriously vanished, leaving empty little undesigned white pockets of space. Ah, well…I'm certain Roger Black has disappointments, too.
By the way, at FEAST's debut party we spotted Mr. Robson standing quietly in a corner, and Katy and Liz from our team asked him for a photo. He's kind of a hero around TOKY. He still loves the ladies. Looks like the ladies love him back.