Sister Carol Keehan, Michael Sherraden in TIME Magazine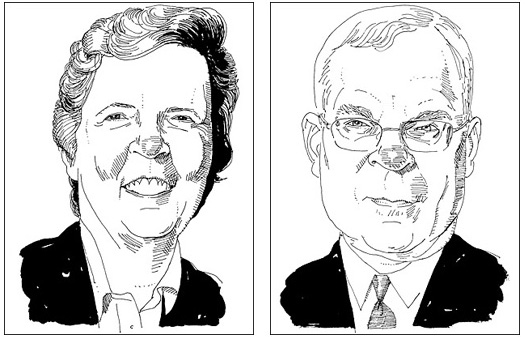 Congratulations to two important St. Louisans for their inclusion in this year's TIME 100, the magazine's annual list of the 100 most influential people in the world.
Sister Carol Keehan is the leader of the St. Louis-based Catholic Health Association, a longtime TOKY client. Her courageous advocacy on behalf of sometimes unpopular human rights issues has made her a go-to resource for the Obama administration. "Her leadership of the Catholic Health Association of the United States (CHA) has been defined by advocacy for the poor and an unwavering respect for human dignity…. She fought for those who couldn't fight for themselves."
Sister Carol Keehan's TIME Profile
George Warren Brown School of Social Work at Washington University in St. Louis professor Michael Sherraden, PhD, is the Benjamin E. Youngdahl Professor of Social Development at Washington University in St. Louis, and is also the founder and director of the Brown School's Center for Social Development. The magazine cites Sherraden's work on The Global Assets Project, part of his pioneering work on asset building for low-income individuals and families. To quote, "Sherraden, 61, a professor of social development at Washington University in St. Louis, Mo., is working to fulfill an ambitious vision: helping poor families accumulate sufficient funds to ride out hard times, buy the crop insurance that protects against drought and blight, insure homes so they can have not only a place to live but also the municipal services that come with a fixed address. He seeks a world in which success is a function of determination and merit, not privilege or political favor."
Then there are these guys, who many of us TOKY folk *wish* were clients!