John Foster Jumps In to Save Endangered Art Environment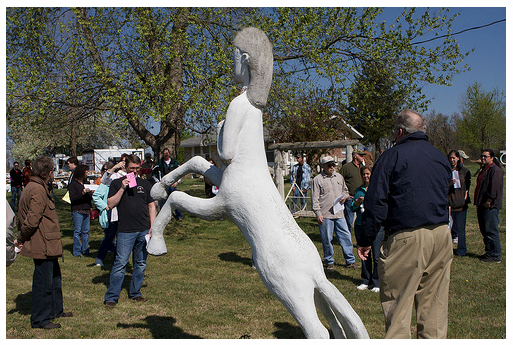 John bids on a 7-foot tall concrete Centaur for eventual reinstallation at Missouri State University in Springfield, MO.
All employees at TOKY know that our firm puts a high priority on the arts. Not only does our firm assist museums and arts organizations with crucial tasks like attracting new members; raising awareness and excitement; or helping to raise funds in a capital campaign—TOKY employees are encouraged to get involved with the organizations themselves.
So when TOKY teammate John Foster saw a rare and unique folk art environment near Springfield, MO about to be lost due to the death of the owner, he jumped in and plotted an immediate course of action.
With little time to spare, John devised a plan to help save the environment by petitioning the support of the Kohler Foundation in Wisconsin for help. Part of the Kohler Foundation's mission is to preserve folk architecture and environments and they immediately stepped in to provide the financial support to save the environment from being sold off to the highest bidder. Like any historic building about to be razed, its architectural character sold and carted away piece-by-piece, John knew that unless something was done quickly, the pieces would never be together in one place again.
So John jumped in. He took a vacation day last Friday, drove down to the auction in Springfield, Missouri, and ended up the proud savior of 98% of the major sculptures.
Obviously the sculptures would need to be professionally removed and relocated to a new home. John brokered a solution at the nearby campus of Missouri State University, whose commitment to the arts has always been outstanding.
With an appeal to the office of University President Michael T. Nietzel (through Fine Arts Department Head Wade Thompson) the University came through in a big way. Recognizing the importance of this site to the people of the region, MSU agreed to accept nearly 30 concrete and stone sculptures for conservation and eventual reinstallation on their campus—all gifted to them by Kohler.
The sale was covered in the local media.
Look for John in the above video at about the 2:06 mark.
The Story of the Lanning Garden
When Ralph Doss Lanning was building hydroelectric dams and state parks for the CCC (Civilian Conservation Corps) during the Great Depression, he didn't know then that his lifetime calling was 40 years away. Likewise, after receiving his 5th Bronze Star for meritorious service in WWII (including one for The Battle of the Bulge), he didn't know that his legacy was still to be realized. That legacy was to begin around 1970 when Mr. Lanning set out to create his sculpture garden.
Almost forty years would pass until his death in December 2009, and it is said that Ralph Lanning worked on his sculpture nearly every day, rain or shine. Until last weekend, passersby on Old Highway 60 near Springfield, MO could stop and wander or sit a spell under a shade tree in the Lanning Sculpture Garden, free of charge, open to the public 7 days a week.
His sculpture was scattered across 8 acres of grassy land just outside of Springfield, Missouri, and included dozens of huge concrete statues of two-headed dragons, mermaids and fantasy creatures of all kinds. Children and adults loved to walk his free park—located on his 8 acres of private property facing the busy highway.
Preceded in death just a year earlier by his wife Gretchen, Ralph died in his sleep this past December. Sadly, as it goes for many of the elderly, Ralph did not leave a will. This omission set forth a series of legal events that threatened the future of the Lanning Garden for future generations to enjoy. The house and land was to be sold at public auction, clearly spelling the end of Lanning Sculpture garden in that location.