Welcoming New People to TOKY
In a bit of an overdue announcement, we want to welcome a few new additions to the staff.
Annette adds great help and talents to our interactive team. We've had the pleasure of working with Annette on a contract basis in the past, and now we're glad to finally have her an official TOKY employee, and around the office a lot more often. Adam was with us in the past, and is now back after moving to Africa to work as a missionary at a school for the blind at an orphanage. One of Adam's great gifts is with the camera, in addition to being a great production assistant. Last but not least, Becky officially joins TOKY after spending some time filling in for Maddie, who was on maternity leave. We liked Becky so much (and we needed her badly!) that we decided to keep her around. She's done a great job managing projects and client relations.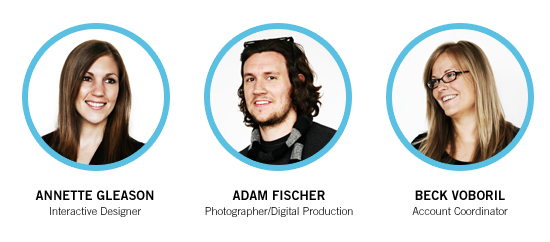 Also, I know we've been saying it for a while, but the next phase of our new site is coming up in a matter of weeks. From the new site you'll get to know way more about everyone here than you wanted to know.